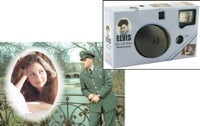 I was roaming the aisles of local chain Newbury Comics on Friday, searching for a gift for a friend's birthday. Nothing too fancy, mind you; last year, I bought him a Ninja Launcher from ThinkGeek. I finally settled on a Spider-Man pinball game, but I was very much tempted by the disposable Elvis camera.
Who hasn't wanted to have their picture taken with Elvis, from time-to-time? And since the King is either dead or in occultation , you'll have to settle for the amazing recreative powers of modern technology. The Elvis camera essentially contains a handful of different pictures of Elvis, along with a little hole for your own mug. With six distinct Elvis pictures, the possibilities are, um, endful! Sure, you could do the same thing with Photoshop, but the disposable Elvis camera makes it easy .
Although, every time I type "disposable Elvis camera" I read it as disposable Elvis camera. Poor guy.