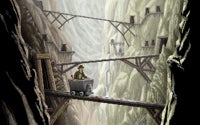 I missed the boat on the classic LucasArts games like the Monkey Island series, or Sam & Max , but I have a number of friends who recall these games with the same wistful expressions of nostalgia that I usually reserve for Darkwing Duck .
Apparently, the folks behind Screen 7 missed them too, so they've created a brand new adventure in homage to the classic games. Even better? It's an Indiana Jones game.
Indiana Jones and the Fountain of Youth features original artwork, a MIDI-based score, and level of puzzle-solving adventure. It draws inspiration from the classic Indiana Jones and the Fate of Atlantis , another in the line of older LucasArts games, but this one is made entirely by fans. The game hasn't been released yet, but you can find a demo on their site (though the installer is for Windows, they claim that Mac users might be able to run the game anyway. Check out Joystiq's coverage below for another Mac hint).
Unfortunately, how long will the game last before George Lucas's legion of litigious stormtroopers lawyers descend upon its developers? Snap it up while you can.
[via Joystiq ]