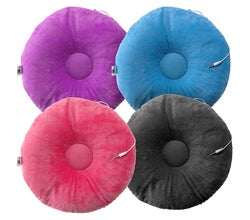 I'm as much a believer in ubiquitous music as anyone, but I certainly didn't see this coming: Generation MP3 tells us about a pillow (four, actually, each in a different color) that has an audio jack for whatever you want to plug into it. Of course, the first thing I can think of is practical-joke potential: say, sneaking up on your sleeping little sister and putting on a little Rammstein for some truly disturbing dreams. Not that I'd advocate such a thing, of course.
(Not up to reading Generation MP3's French-language site? Try Gizmodo or the Linens 'n Things website.)
Note: When you purchase something after clicking links in our articles, we may earn a small commission. Read our affiliate link policy for more details.