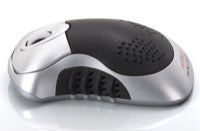 Gaming can be tough on your hands, especially in twitch games like First Person Shooters. Loose your grip on the controls for one second and you could find yourself deader than something that is really, really dead. Deader than your average dead.
But with those kinds of stakes, your body can betray you. Worrying about what's around the next corner can produce the shakes, nervousness, and perspiration. The Nyko AirFlo mouse attempts to combat the latter by integrating a fan which blows air through small vents in the outer surface. The result is a cool hand, and as any hardcore gamer knows, cool hands means cool thoughts.
Other than the built-in air conditioning, the AirFlo is a pretty standard two-button scroll wheel optical mouse. It'll be available in stores soon for $29.99.
[via popgadget ]