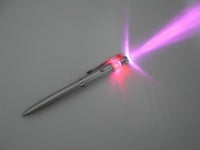 You know how I love it when companies integrate nifty gizmos into pens . As a writer, the pen is the tool of my trade, so if I can carry around a writing implement and a wireless network detector in one, I'm set.
But then what will I use for making sure that nobody has bugged my office? Oh well, I guess I'll need this combination bug detector/pen/currency validator. It flashes red when it detects wireless signals on the 900/1200/1300/2400/2600/3000MHz range, which means that you'd better be sure nobody's using the cordless phone, microwave, or wireless network within 10 meters. However, the flash will supposedly increase in brightness as you approach the source, so you should be able to weed out those false positives. After all, who really wants to listen to me banging away on my laptop and swearing out loud all day, huh?
The pen also has a UV light for letting you check whether that ten the guy at the drugstore just passed you is legit . You just can't trust anybody nowadays. The price of paranoia? $17.71.
[via Ubergizmo ]