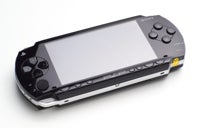 We talk an awful lot about the DS here. I know. You may wonder why we've expended considerably less energy on its major competitor, Sony's PlayStation Portable (PSP). We're not Sony haters, to be sure, but when it comes to the PSP we find ourselves looking at our DSs and thinking "why?"
Evidently we're not the only ones. But Sony is trying to breathe new life into the gaming platform at San Diego's Comic-Con of all places, according to Ars Technica. They've announced price cuts on a "greatest hits" series, where games that have sold over 250,000 copies will go for just $19.99, and have floated the concept of movie downloads for PSP, and television connectivity. The PSP will act as a "remote" for the forthcoming PS3, though details are scarce, and, most amazingly, there are new UMD movies in the pipeline, including cult hits Office Space and Napoleon Dynamite .
At the same time, Sony seems to have been alienating its most die hard constituency: the homebrew hackers. A Sony rep told gaming site Shack News, re homebrewing: "Overall it's frowned on. Our tech guys have gotten madder and madder lately, and it does void your warranty." But without the homebrew community, can the PSP stand against the DS? Not, perhaps, without a price cut.