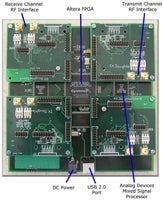 Okay, the software-defined radio is a device so cool, so awesome, it's going to force me to neologize: it's fanerrificsome . Oh, you heard me. Think about it: all of the wonderful world of wireless that we take for granted in today's world runs on basically the same principle, radio waves. Everything from AM/FM radio to Bluetooth to Wi-Fi to all the cellphone networks—they may be different frequencies and modulations, but they're radio waves nonetheless. So why do we have all these different devices? Why not one device to rule them all ?
That's what Mark Ettus and Eric Blossom wondered. The two originally started out trying to capture over the air HDTV signals. Why? Because it was there, my friends, because it was there . After securing a grant from the National Science Foundation, the pair came up with the Universal Software Radio Peripheral (USRP), a device made possible by the ever-increasing speeds of computer processors. With the right daughtercards and software, the device can do not only FM radio, but GPS, emergency band transmissions; it can even open garage doors.
There are other pieces of equipment that do this, but Ettus and Blossom's solution reputedly runs about a tenth of the price, about $550 for the motherboard, and from $75-$275 for the daughtercards.
[via Engadget ]