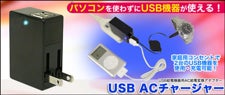 I rarely leave home nowadays without probably close to $2,000 worth of electronics. So if you ever see me on the street, I'm a great option for mugging! Still, when I'm traveling long distances, it's a pain to have not only carry a phone, iPod, camera, Nintendo DS and laptop, but also chargers for each of those.
If you're like me, you could use a charger that could handle multiple devices. Let's say, for example, that you have a couple different gadgets that need to charge via a USB connection. In that case, you could pick up the USBACH01: a wall charger with a pair of USB ports. Just plug in your USB gadgets, and they'll charge away.
Not only is it super-convenient, but it's cheap too: just around $11. And it's only slightly bigger than your iPod power brick (and less expensive, too).
[via Engadget ]