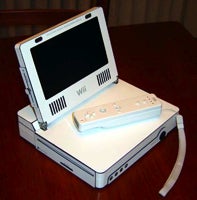 The fellows at Engadget have gone plum crazy , teaming up with noted video-game system modder Ben Heckendorn and created a portable Wii system. It includes a 7″ screen, stereo sound, GameCube controller port, and a built-in short range sensor bar.
My roommate somehow acquired a Wii which appeared in our apartment last night (I can only assume through occult means), and I enjoyed the hell out of some of the Wii Sports that we were giving a shot (golf is tough , man). But this thing looks purty .
Over the next few weeks, they'll be posting a How-To for instructing you on building your very own monstrosity. Of course, you'll have to find yourself a Wii first, which is still no easy feat.