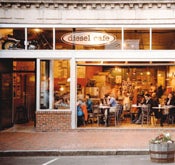 I've been on vacation for the past week, so while Derik has done an admirable job steering the ship that is Gadgetbox for the last several days, you'll have to excuse me if I go back to revisit some stories we may have overlooked.
This morning, for example, I read this article from last week's Boston Globe, discussing the ongoing war between cafes that provide wireless internet access, and the people who love them. It seems some cafes are starting to resent the number of laptop users who come in, buy a cup of coffee, and then sit with their computer for six hours.
As someone who does a lot of there work in Internet-enabled cafes, I can sympathize with both sides of this dispute. I too love the free Internet, but I also like to support the establishments I work in every day. While some cafes (like one of my local hang outs, the Diesel Cafe) have begun charging for Internet access, many are reluctant to do so, for fear of driving away their customers. Then again, the laptop customers may be driving away other non-computer customers.
So where's the middle ground? Some places have begun shutting off their Internet connections during peak hours, encouraging laptop users to vacate during lunch, for example. Maybe it's not the best solution, but at least it allows those of us who enjoy the cafe atmosphere to keep doing our work there. For my part, I think I'll just continue to make sure I buy something when I go in.