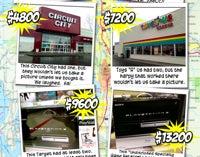 Do you ever wonder how some of these CEOs got as far in business as they have? Sony Computer Entertainment America's president, Jack Tretton, offered $1200 if you could find a PlayStation 3 that had been on the shelf "more than five minutes."
Yeah, smooth . Turns out that plenty of people jumped at this chance to live the American dream and score free cash. Major props has to go to Penny Arcade's Gabe and Tycho who undertook their quest in true comic form, finding not one, but eleven units just in their local area, netting them a theoretical total of $13,200 for an afternoon's work.
If Tretton's a good sport, like his counterpart John Smedley, the president of Sony Online Entertainment (who once sent the PA guys 1200 Krispy Kreme donuts as a joke), he'll do something smart like donate the money to Penny Arcade's Child's Play charity. If he's not, then he'll whine about his quote being taken out of context and back down from the deal. You heard it here first.
[via Kotaku ]