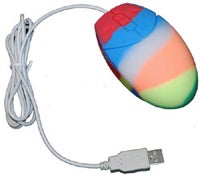 Are you the kind of person who just destroys mice, one after the other? Do you like to torture them by dangling them by their cord over a molten hot pool of lava? Or perhaps your houses is infested with vermin that like to gnaw on your input devices (in other words, two year olds).
Sounds like you might be a prime candidate for the Virtually Indestructible Mouse. The exterior of this sucker is made out of silicone, which resists not only wear and tear, but also spillage. Although it may not be as cool as a water, fire, and bullet proof USB drive, for $25, it might be the last mouse you ever need.
The Virtually Indestructible Mouse is USB, and comes in Black, Indigo, Tangerine, Yellow and Rainbow (I kid you not). It has two buttons and can be washed using hot water and detergent. I can't tell if it has as scroll wheel or not from the picture, so you might want to confirm that if you're interested. For those interested in the matching set, for $40 Grantec also sells a Virtually Indestructible Keyboard.
[via Ubergizmo ]