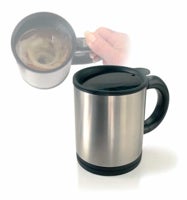 A mug that stirs itself ? Say it with me, for effect: a mug that stirs itself? Genius! Last night I had miso soup, and I noticed as I dished myself a second helping, that all of the good stuff had sunk to the bottom of the container. I'd been deprived of valuable misoing by my lack of stirring. But I can't be bothered to find my spoon (Gadgetbox HQ rules allow only one set of utensils per blogger).
But the self-stirring mug would help me out by allowing me to simply press a button on the mug, which spins a propeller that gently mixes my drink. Plus, the thermos-like construction keeps your hot drinks cold and cold drinks hot. Or something like that.
Of course, it requires 2 AAA batteries to power the propeller, and I'm not sure how I feel about drinking liquid from a container that includes batteries . Something about that just strikes me as wrong. Dangerous , even. Should you want to snag one of these babies, it'll cost you £14.99 (~$30). But act soon, if you want to enjoy your Christmas cocoa sans lumps of sugary chocolate (but wait, that's tradition!).
[via Gearlog ]