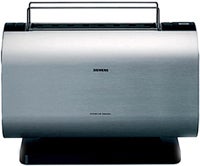 We always cover the latest advances in toasting technology here at Gadgetbox. The reason is simple: we're not allowed to eat anything else by our devious masters. It's dry toast day in, day out. We thought about imprinting our message for help using our toaster printer, or at least, asking for some jam.
That's why I'm working on hooking us up with Siemens's aluminum two-slice toaster designed by the slick fellows at Porsche. Not only does its browning level go to 11 , but it automatically adjusts to the thickness of your bread. The included quartz heating element is among the most efficient on the market, and it'll also remembers the last setting you used to toast your bread.
Is all of this worth the £118.50 pricetag? Well, perhaps not to me , but I'm sure my bosses can foot the bill. After all, if I'm deprived of my toast, I'll be forced back into hunting the resident dust bunnies. There's good eatin' on them.