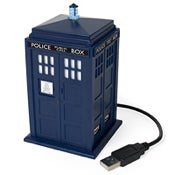 I'm not sure that I can say I have a mandate here at Gadgetbox, but if I did, it would probably be covering all Dr. Who-related gadgets that I can get my grubby little mitts on. I actually saw the Cyberman Voice Changing Helmet in a store the other day, and had to physically restrain myself from buying it.
Unfortunately, I'll have no such problem with this USB hub shaped like the TARDIS, because it's not currently available. Sadly, I'm still required to tell you all about it, so have a seat.
As you might expect from a USB hub, it has a USB cable and four ports for attaching all your various and sundry gadgets. What you might not know is that every time you plug or an unplug a device, the blue light on the top flashes and the TARDIS makes its distinctive sound, described as a "vworp, vworp."
The TARDIS measures 7cm(W) x 12cm(H) x 7cm(D), but don't worry—it's bigger on the inside.
[via Shiny Shiny ]