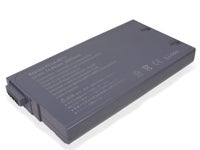 Exploding batteries have become a punchline of late in the tech industry—I should know, having written a joke or two hundred in said sphere. Like an investigation of political corruption, the search for janky batteries is just getting wider. Two new players have entered the field today, neither of them unexpected.
First off, Lenovo has decided to issue a recall from Sony-made batteries from its ThinkPad notebook computers. Given that there have already been a couple incidents of ThinkPad batteries catching on fire, this is pretty much Lenovo backed into a corner. The recall will affect roughly 500,000 batteries—only about 168,500 of which are reportedly in the US, according to the Consumer product Safety Commission.
Meanwhile, the maker of all of these recalled batteries, Sony, has initiated its own global recall. Can you say "about time?" I knew you could. At the moment, the totals for batteries recalled is topping 7 million, and that's before Sony enters the fray. So even if you've already checked with your computer vendor about your battery, it may soon be time to check again with Sony. Think maybe they'd send us all free PS3s?