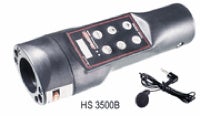 Why do I need the $159.95 AimShot HeatSeeker Rescue Tool ? Do I often find myself engaged in rescue attempts? Not particularly. Do I like finding things? Well, yes. Warm things? Almost certainly. That's good enough for me.
Using the magic of dual lasers, the HeatSeeker Rescue Tool is suitable for all sorts of tasks:
Locating lost children, pets, livestock
Find injured, hiding, or downed game
Detect thermal losses in a home or business
Detect hot spots in equipment
Ensure safer building searches for military and law enforcement
Detect overheated ballast transformers for fire prevention
Almost anything that requires the detection of heat, or differences in heat levels.
Remind me: which of these applications requires the optional rifle/shotgun mount ? Would the lost "livestock" you're searching for happen to be a
Bengal tiger
? Look, I just want to find things in the dark with the help of an infrared laser, okay? Is that too much to ask?
[via The Red Ferret Journal ]