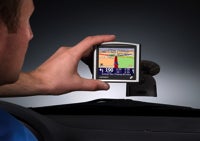 I don't get lost that often (except in virtual worlds, for some reason), so I've not had much of a use for a GPS navigator. Still, I like the idea of them, and I realize that they're pretty handy in a pinch.
TomTom has finally released their introductory-level GPS navigator, the TomTom one, in the US, and the Gizmodo boys got their mitts on one to try out. It's a small, sleek looking device that's a little bigger than an iPod, and pretty much all screen (a 3.5″ touch-sensitive one to boot). It uses a suction mount to attach to the inside of your car and also features Bluetooth, and pre-loaded maps on an SD card.
The downsides seem to include a lack of text-to-speech functionality (no Mr. T on this model? Bummer!), and a $500 pricetag that, while lower than much of the competition, is still a little bit on the pricey side for yours truly.