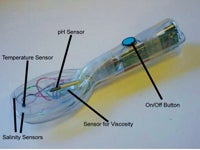 The future is a weird, wonderful place. To celebrate the technological advancements that come along with our progress as a species, TechEBlog has compiled a list of the " Top 10 Strangest Gadgets of the Future." Comprised of both concept devices and actual forthcoming inventions, the top 10 list features everything from the All-Terrain Motorized Board (#8) to the Self-Cooling Beer Can (#4).
Some of my favorites were in the honorable mention section, including the Intelligent Spoon pictured at right:
It's equipped with sensors to measure temperature, acidity, salinity, and viscosity. Download the recorded data to any computer via a cable for further processing.
Eating Cheerios just got a hell of a lot more fun. That's pretty much the coolest spoon since the color changing ones you could get a while back.
One of the items, I happen to have some firsthand experience with: #3, the VirtuSphere. It's basically a giant gerbil ball that you walk in to control a video-game avatar. I was at the Penny Arcade Expo (PAX) last August, and the folks who made the VirtuSphere were demonstrating it in the exhibit hall. I didn't use it myself, but I watched several people try to use it with mainly frustrating results. While it's an interesting idea, it seems that it needs a little more refinement in its execution.
[via Slashdot ]