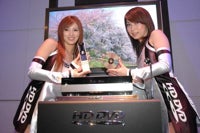 Any gadget freak mad enough to have bought the Toshiba HD-XA1 HD DVD player at this early stage in the format wars is in luck because there's a surprisingly early firmware update doing the rounds after a leak chez Tosh.
Apparently, the update reduces the disc load times we noticed in testing and fixes a few minor picture freezing and HDMI issues. It's not an official release yet but you'll find what you want if you follow the links.
(Via HD Beat )
[ J Mark Lytle, Digital World Tokyo ]
Dan's Thoughts: Ah, nothing quite like firmware updates that fix things that shouldn't have been problems in the first place. The whole culture of getting things out the door on time, whether they be good, bad, or ugly probably contributes to more fixable bugs than any single factor. Then again, that doesn't mean that things that are constantly delayed will necessarily be great. Yeah, Vista, I'm talkin' bout you. Whatcha gonna do bout it?