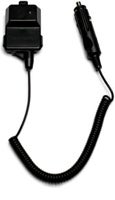 Seriously, what else is a tiny GPS tracker good for besides stalking? I suppose you could clip it onto Fido's collar and keep track of him wherever he goes, but that's just dog-stalking . You could carry it around with you to see where you've been, but that's just self-stalking . Really, what else is there?
Either way, if you're so inclined, you can pick up the teeny-weeny TrackStick Pro, which comes in a variety of colors for volume orders, depending on who you are (red for emergency, olive green for government, and boring gray for commercial interests), though price and availability have not yet been announced—you'll have to contact the company and explain how your use will be far different from stalking. This little buddy will require power though, by use of a cigarette lighter, so pretty much don't expect to track anybody who's unaware of it, unless you get tricky and tell them that it's an iPod power adapter. Clever you.
[via SCI FI Tech ]
Note: When you purchase something after clicking links in our articles, we may earn a small commission. Read our affiliate link policy for more details.