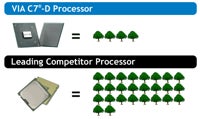 Look, the environment is a responsibility that belongs to each and every one of us. So every needs to make a commitment, okay? I've lived for twenty six sweltering summers without air conditioning. Talk about suffering.
Via Technologies, on the other hand, is out to reduce the amount of carbon involved in computer processors. Working with two UK computer vendors, Evesham Technology and Tranquil PC, Via will be producing a low-power carbon-free processor, the C-7D, that will run between 1.5GHz and 1.8GHz. But, Via maintains, the key spec here is not speed , but the processor's "TreeMark" rating. The C-7D has a TreeMark rating of 4, compared to the the average desktop chip, which ranks more like 28 (lower numbers being better, like golf).
How does one calculate TreeMark? With this form, which also explains the formula used to derive the measurement. In the end, it's intended to measure how many trees would have to be planted to offset use of the PC for its lifetime. So plant 28 trees and you can go on using your desktop with a clean conscience for the rest of its lifetime.
Anyway, just what we needed: another pointless benchmark. How long before PC and Mac users are arguing over whose processors have lower TreeMarks? We foresee a "TreeMark Myth" debunking at some point.
[via Digital World Tokyo ]