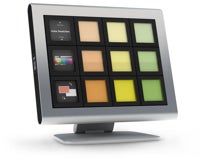 Art. Lebedev studios has managed to accomplish a feat usually restricted to the likes of Apple: creating hardware so delicious-looking that I feel my salivary glands start to work overtime just from looking at pictures. You may remember them as the makers of the Optimus mini three and its big brother, the still-vaporware Optimus OLED Keyboard.
While the full keyboard may not yet be ready to go, the studio has settled on a middle-ground sort of product, the oddly-named but amazingly slick Optimus Upravlator. The Upravlator is a 10.8″ 800×600 display over which has been laid a 3×4 grid of buttons. Not only can you activate each button by touching the center, but you can also actuate them by clicking on their sides, giving each square five possible controls.
You can check out this page of possible implementations for the Upravlator, which feature layouts for designers, 3D modellers, sound engineers, and video editors. I love the idea of modular user interfaces like this—it makes me feel as though I actually live in the future.
The Upravlator is due out in 2007; no price has yet been released. You can follow the project's progress on the Optimus Blog.
[via Gizmodo ]