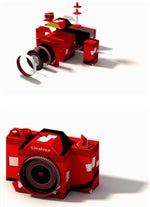 Looking for a new camera but don't have the dough? Download it! Lighthouse in a Tree is offering a PDF that you can print out and assemble into your very own pinhole camera. Granted, this thing may not have all the bells and whistles of that Nikon you've been eyeing, but come on—geek credit galore ! The site even includes a 3D flash animation, showing you how to assemble the camera.
I love the idea of being able to download physical objects; I have a couple of Mini Coopers made from paper sitting on top of my desktop's monitor. But the fact that you can download something practical (well, more practical than a tiny paper car) is very cool.
Now, somebody needs to get back to work on downloadable pizzas.
[via Lifehacker ]