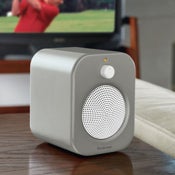 In later years, my parents have gotten hard of hearing. Most of the time, they do okay with just turning the captions on for TV, or subtitles for DVDs. Still, sometimes captions just don't work right, and honestly, captions often annoy me—ever watched a sitcom with them on? It really kills the timing.
Here's one possibility for them: the TV Hear Wireless Speaker. Simply put, it's a wireless speaker that broadcasts sound from your TV. Instead of merely pumping the television volume, simply move the TV Hear closer to you and adjust its volume. Brilliant. You'll need to connect a transmitter to your TV, though, so I wonder if it disables the television's own speakers.
The TV Hear can be used with an AC adapter or 6 AA batteries. It has a 30 foot range over the 900MHz band (some cordless phones will probably interfere), and runs for $75.
[via OhGizmo! ]