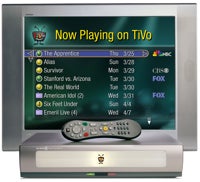 One of the funny things about the TV industry is that while us plebeians are winding up this TV season, the networks are feverishly working on getting the next one underway. The first part of that process is getting next year's lineup in order; the second part comes soon during the upfronts, which is when network and advertising execs get together to negotiate over ad rates.
A BusinessWeek article points out that this year, the increasing presence of DVRs might make things more complicated. Now that Neilsen has started tracking DVR usage and has a few statistics under its belt, advertisers are expected to press harder for reduced rates as data on ad-skipping comes in. Networks, of course, would rather it not come to this.
All of this has already started to affect what we see on TV. This season saw more product placement in TV shows, as well as ads that borrow elements from the current TV show so that ad skippers stop skipping, thinking they're back to their show. (Both of which, frankly, are practices that irritate me more than anything else.) And of course this affects the TV shows we watch elsewhere — this is why you can't skip past the embedded ads on CBS and ABC 's online reruns.
But here's the rub: all this fuss, yet less than 3% of ads are being skipped by DVR owners — fewer than those that are ignored every day by non-DVR owners.