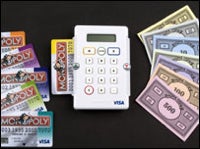 There's a version of Monopoly for everything . Your hometown, your college, space . About the only one I haven't found is an official Microsoft Monopoly set (perhaps they hide them in the company store on the Redmond campus). But regardless of the theme, the central tenets of the game have remained largely the same since its inception.
Until now. An edition being released in the UK, France, and Germany will be the first version of Monopoly to forego paper money in favor of plastic. A deal struck with credit card company Visa has plastered their name on an electronic card reader included with the new version. The game includes electronic cards onto which balances are credit or debited. No word yet on a US release.
Spiffy I suppose, but so much for building arithmetic skills. Within a few decades, I guess that paper currency would seem quaint and obsolete anyways. And now the arguing over who gets to be banker will be about who gets to play with the little keypad, instead of keeping all the little bills in line.
[via Ars Technica ]