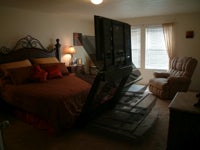 What do you do when you want to put that new plasma TV you bought in your bedroom, but you just don't have anything to sit it on? You could mount it to the wall, but what if it doesn't fit with your décor? Not all homes are designed to work with 21st century geek, after all.
Well, assuming you're not using your valuable underbed storage space to keep rubbermaid bins full of vintage action figures, you could spring for this underbed lift by MK1 Studios. At the press of the button, the plasma will slide out and fold upwards so you can watch from the comfort of your bed, all within 45 seconds.
A king size bed has room to conceal a 50″ panel, along with accouterments, but you'll need 8″ of clearance under the bed (a queen can handle a 42″ model). The price is in the if-you-have-to-ask range, but if you're shelling out for a 50″ plasma, I imagine that you can spend a tad more.
I can see this as perfect for those cases in which your significant other doesn't want you to spend the money on a plasma. Just wait until they're asleep, and you can sneak it out. You might want to make sure that you're the one who cleans under the bed, though.
[via Oh Gizmo! ]