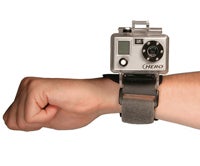 Why, hello there. It's been far too long, Gadgetboxers. I'd love to discuss where I've been for the past week, but well, it's not for me to say. There were spies, you see, and girls, and gadg—okay, I spent my Christmas vacation watching the James Bond marathon on Spike. Are you happy now that you've crushed what little self-respect I have left? Hmm?
Let's just move on. Speaking of James Bond, I bet even the legendary superspy would be jealous if Q handed you this Underwater Digital Wrist Camera. Submersible up to 30 feet, it can take 360 photos (fairly low res, given the 32MB of memory), or 32 ten second clips of video…of fish (yes, only fish). The camera also includes a self-timer (for pictures of you with fish), and weighs less than twelve ounces (lighter than many fish). It's Mac or PC compatible, and quite the value for $80, presuming, of course that you like taking pictures of fish.
[via Digital World ]
Note: When you purchase something after clicking links in our articles, we may earn a small commission. Read our affiliate link policy for more details.