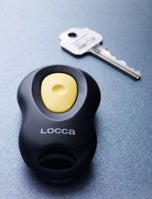 Okay, maybe I'm alone in this, but more than once I've left my apartment, pulled out my keys, and instinctively tried to lock the door using my car remote unlocker. The result? Well, nothing, unless you count feeling patently ridiculous as a result; it's like when you do something really stupid in real life, then try to invoke the "Undo" command. Oh, you know what I mean.
There's, as far as I know, no fix for the latter, but for the former you can pick up a Locca Access, which works just like your car's remote, but for your house. It's got a range of around 150 feet and can store up to 19 different "keys." You just need to get a handyman, electrician, or locksmith to install the unit in your door, slap one Locca fobs on your keyring, and you're good to go. In case of power outage, there's a backup battery in the home unit, and you can always use your actual key.
The units aren't exactly cheap: the home kit, including two keys, starts at around £149.99 in the UK; that's around $293 for us Yanks. Maybe I should wait for a version that'll open my door, too—come on, you never watched Silver Spoons ?
[via Red Ferret ]