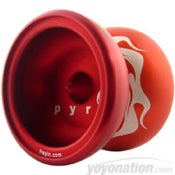 I'm one of those people who needs to constantly be doing something their hands, and as a result, I love a good yo-yo. There are a few in a box under my bed, including a flashy LED one that I picked up at Macworld last year. Unfortunately, my mastery of tricks is limited to Around the World and making the yo-yo sleep.
That seems like enough promise to justify a purchase the new, spiffy HSpin Pyro, even if it is $88. It boasts a central axle that is twice as hard as previous iterations of the Pyro, and a handful of other cosmetic improvements. They boast that it's "Smooth, stable, wobble-free, and VERY grindable." I have no idea what "grindable" means, but I desperately want to . Mayhaps it's on the pricey side for a stocking stuffer, but c'mon—it's still cheaper than that new video game system your kids are pestering you for. And easier to find, too.
[via Ubergizmo ]
Note: When you purchase something after clicking links in our articles, we may earn a small commission. Read our affiliate link policy for more details.