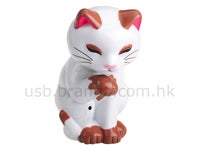 I was trying to avoid plaguing you with the latest USB device, the USB Kitty who watches over your computer, but the Internet would not rest until I had told you all about it. Blast you, Internet—if only you didn't watch me wherever I go .
Look, there are any number of ways to secure your data. Take it from me. There's encryption, biometrics, keypad-enabled hard drives, you name it. But for those truly concerned about having the latest in surveillance and detection, consider, yes, the USB kitty . This little fellow plugs into a convenient USB port and includes integrated motion sensors that will inform you if anybody approaches your computer.
It will then try to get the interloper to leave by meowing, hissing, or playing music. It's enough to make you wonder whether Brando, the manufacturer, has ever encountered a real life cat. I'm pretty sure that should an intruder try to use my computer, our cat would purr and rub up against said intruder's leg. Though, I suppose the USB model has the virtue of being able to be unplugged. Oh, and it only costs $24.
[via Ubergizmo ]