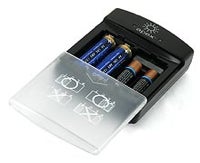 Sure, this USB battery recharger might not be as sextastic as those USB batteries that were all the rage a while back—yes, I said "sextastic"—but there's some serious functionality here.
First off, the Apex USB charger can fit four batteries, charging them off a single USB port, rather than the other batteries that require one port per battery. Second of all, they can handle either AA or AAA batteries. Thirdly, you probably have some rechargeable batteries already; and even if you don't, buying a pack of four standard rechargeable batteries will cost you less than four of those USB fellers.
Yes, it's another little box and cable to drag around with you, but the $12 it'll cost you is hardly a serious outlay.
[via Popgadget ]