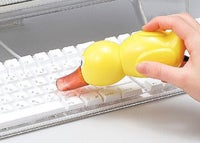 There's a good argument that not dogs, or cats, but ducks are the most influential animals in young children's lives. Think about it: there's the Robert McCloskey classic Make Way for Ducklings ; Ernie's rubber ducky; playing "Duck, Duck, Goose,"; even feeding the ducks is a popular pastime. So it should hardly come as a surprise to find duck-shaped computer accessories like this USB Duck Vacuum cleaner. I'm confident in saying that it wins several "most bizarre gadget" awards from us here at Gadgetbox HQ.
It's handy, though—as only a duck can be. Computers collect a lot of gunk, especially the keyboards and not only is it unsightly , but it can adversely affect the performance of your machine. The USB Duck Vacuum plugs into any USB port and allows you to clean that gunk away, even allowing access to small crevices with its unique duck-billed design. It's almost as though Mother Nature designed the duck bill for just such a purpose.
It costs $21, and though the site says it requires Windows 2000/XP, I'd guess that it works perfectly fine on your Mac too (after all, all it needs is power. And love.)
[via Gearlog ]
Note: When you purchase something after clicking links in our articles, we may earn a small commission. Read our affiliate link policy for more details.