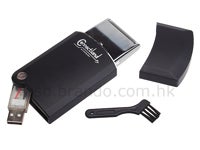 Man, forget that Norelco junk that I put on my Christmas wish list this year. Sure, it may give a great shave, but how convenient is it to have to tote around a battery-operatred razor, or—heavens above!—one that relies on a AC power cord ? No, the future is USB-powered devices, from vacuums to slippers.
Hence, Brando's USB shaver. This slimline razor can recharge its internal battery by plugging into your laptop's USB port—and it even glows blue as it does so (alas, someone has discovered by fetish for blue glowing things ). Weighing in at a mere 75g, the USB shaver features a floating double-head system, an ultra-thin outer foil, and the potential to make you the laughing stock of your cubicle mates. All for $22.
Man, if they added a gigabyte of flash memory to this thing, I'd be so there .
[via Ubergizmo ]