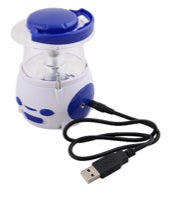 We have a fondness for camping gear here at Gadgetbox. Not because we go camping all that often, but because the idea of populating our few-and-far-between wilderness treks with high tech gadgets strikes us as both fun and ironic, a killer combination.
Hence, the USB-powered light/FM radio. For a mere $12, you can snag yourself one of these puppies that will not only allow you to illuminate your campground (in lantern or torch modes), but also fill the wild woods with the sounds of the crappy radio station of your choice (as with most remote locations, you have your choice of Country or Western).
Of course, you'll need to bring your laptop to power the USB device (or 3 AA batteries). Thanks, but I think we'll stick with hand-cranking.
[via Engadget ]