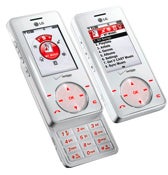 Listen, I don't care what LG wants to tell you. White chocolate? Not chocolate . I have on my desk a bar of Lindt 85% Cocoa Dark Chocolate which is so rich, I actually can't eat it. That's chocolate .
So even though LG is releasing their much-touted musicphone, the Chocolate (aka the VX8500), in a variety of other colors like white, green, and red, remember that there is just one chocolate, 'kay? The new colors are going to be available through Verizon, though no drop date has yet been announced. I'd expect them to be priced similarly to the current Choco-offering: retailing for $180, cheaper with contract re-ups.
Note: When you purchase something after clicking links in our articles, we may earn a small commission. Read our affiliate link policy for more details.