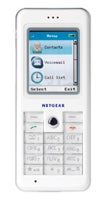 Wi-Fi has been in the mainstream for a couple of years now, and VoIP is quickly gaining ground as one of the next major technological shifts. Providers like Skype and Gizmo Project on the software side and Vonage on the hardware side mean that people are making cheaper phone calls than ever before, through the magic of the Internet. The only problem now is prevalence .
That's where the Wi-Fi love comes in. Networking equipment manufacturers like Netgear and Belkin are prepping devices that may look like ordinary cellphones, but in fact use Wi-Fi hotspots to make their phone calls, via Skype. The company, which was acquired by eBay last year, is probably the largest VoIP provider on the Net.
The handsets start at $189 (for Belkin's model ), though the Netgear model ($299) features support from WEP/WPA protected hotspots. While $189 may seem a bit pricey for a phone that only works at Wi-Fi hotspots (much shorter range than traditional cell phones), the fact that Skype is offering free calls to landlines in North America through the end of the year gives you a chance to make your money back.
[via Ars Technica ]