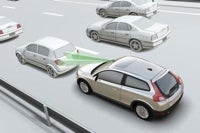 Nipping at the heels of yesterday's atrociously-named WILLWARN system, Volvo is announcing its own computer-based safety system for their cars. Their "City Safety" program may be better named than Daimler-Chrysler's, but it's a bit different. It also monitors sensors in the car, but it uses them to detect the distance between you and the car in front of you in order to avoid accidents.
I'm a little disturbed by the fact that the car will activate the brakes if you get too close: seems to me that human judgment is still better than computer judgment in many a situation, and I for one like to be in control of my vehicle.
Most of all, though I dig that the diagram of the system (above) looks more like Volvo is outfitting its car with tractor beams. Now there's something I could use in my driving experience.
[via SCI Fi Tech ]