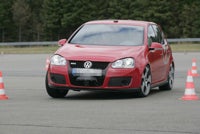 Someday soon, cars will drive themselves. And as they probably won't be talking on the phone while they do so, that day can't come too soon. Volkswagen's well on their way to developing an autonomous driving system. The German company has been working on a fully automated version of their popular Golf that can handle its own at speeds of up to 150 mph, using a sophisticated network of GPS, radar, laser sensors, and chewing gum (okay, not chewing gum). In a reference to the classic Disney movie Herbie (and not, one hopes, the recent remake of the film), they're calling it "53 plus 1."
Given the somewhat unimpressive attempts at robotic vehicles in DARPA's Grand Challenge, Volkswagen's vehicle is quite something:
On a race circuit, it drove itself faster and more precisely than the VW engineers could manage – and can accelerate independently up to its top speed of 150mph.

To prove it is no trick, guests were invited to design for themselves a variety of different courses – using road cones – and then watch the car fly around them on its own at a test track near their world headquarters in Wolfsburg in northern Germany.
Of course, they'd better work in automatic horn usage and rude gestures if they want this thing to survive on the streets of Boston.
[via Engadget ]