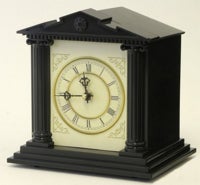 I'm thinking that perhaps alarm clocks need their very own niche; perhaps I could start a blog dealing with nothing but the latest in awakening technology (hey, Awakening Technology would be a good name for a blog…). I think, though, that the VOCO Clock is my new favorite. It's a pity that they've had so much publicity that it's temporarily sold out, but you can get on a priority list if you act now.
What makes the VOCO Clock so dashed appealing? It foregoes the current trend of awakening one into some sort of instantaneous state of readiness, prompted by the threat of imminent explosion,for the rather more decorous approach of waking to the perfect English valet, voiced here by none other than British actor Stephen Fry (who played impeccable manservant Jeeves to Hugh Laurie's hapless Bertie Wooster). The clock will wake you with one of nearly fifty different phrases, and issue another remark when you shut the alarm off.
Besides that, it's a fairly classy analog timepiece, as you might expect from our friends across the pond. It'll run you £25.95, or about $50. You can hear some samples of the messages at the website above.
[via Red Ferret Journal ]