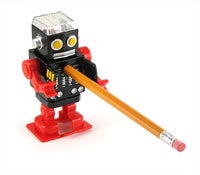 There are undoubtedly people out there who the Walking Robot Pencil Sharpener is not for, but I ask you this: do you really like those people? Who would not be delighted by this 4″ automaton? Simply insert your pencil into its gut (hexagonal, for the best effect) and turn. By doing so not only will your pencil be sharpened to a useful point once again, but you will also give the Walking Robot Pencil Sharpener the wood shaving fuel he needs to start his inexorable walk towards destiny .
Will this little fellow contribute to the eventual demise of humans by their robotic underlings? Maybe. But that's a risk you'll just have to take if you ever want to write with a pencil again. Ever . Oh, and you'll have to pay $5.99. You decide which is the bigger cost.
[via The Red Ferret ]
Note: When you purchase something after clicking links in our articles, we may earn a small commission. Read our affiliate link policy for more details.