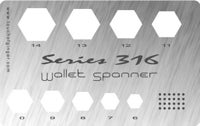 Now here's a handy idea for the geek on the go: tools that fit in your wallet. The Wallet Essentials collection is a group of six metal credit-card sized tools that you can stow away next to your Visa or MasterCard, and produce when the circumstances call for it, to much applause.
For $15 each, you can pick up one of seven tools: Emergency Cufflinks, a bottle opener, a photo frame, a comb, an ice scraper, a pair of shot dice, and—my personal favorite—a set of metric spanners (pictured). The slick metal look is bound to be a conversation-starter and, well, possibly a conversation-ender.
The photo frame doesn't strike me as super-useful, but the spanners, ice scraper, comb, bottle opener, and cufflinks could come in handy. As for the shot dice, well, they seem like more of a one-trick pony.
[via Oh Gizmo! ]