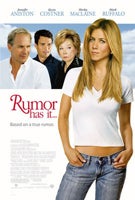 Sometimes insanely huge media companies actually come up with some good ideas: Warner has announced that starting with Rumor Has It on May 9, they will release movies on double-sided optical discs — with one side playable on HD DVD players, and the other on regular DVD players. So now you can hold out for lower-priced players and still watch your movies while you wait.
[ Emru Townsend, Digital World ]
When you purchase through links in our articles, we may earn a small commission. This doesn't affect our editorial independence.