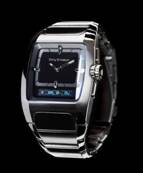 Get ready for another episode of random convergence! Previously we've had the Bluevoice watch/Bluetooth headset and the Hearthfall fireplace/waterfall. What next? Well, how about Sony Ericsson's MBW-100 Bluetooth watch. Instead of finding your phone to determine whether you want to answer that call or not, just glance at the watch, which will display the caller's number. Don't recognize the number? Send 'em to voicemail.
The major problem I can see here is caused by the cellphone itself: how many phone numbers do you remember any more? My phone displays the name of the person; I can probably recognize about three phone numbers, all of which were learned before I even had a cellphone. Still, if you want to shell out $399 for a watch that displays effectively random numbers, be my guest. I'll hold out version 2.0 which, hopefully, will come with either a laser or a grappling hook.
[via Digital World ]
Note: When you purchase something after clicking links in our articles, we may earn a small commission. Read our affiliate link policy for more details.