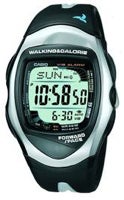 The watch and I have a mixed relationship. I go back and forth between spending years wearing them and years without wearing them. I find that if I do wear them, I'm compulsively looking at them. That said, I dig my current model, a Timex Expedition with digital and analog displays.
Still, perhaps my watch just isn't doing enough for me. Compared to Casio's PHYS personal training watches, the stopwatch, alarm and timer features on my timepiece are seeming a little lackluster. The PHYS models can keep track of everything from your workouts (calories burned, distance covered, number of steps) to your heart rate to a super-fancy model that actually integrates a GPS.
I've often thought the wrist is a great place to display information. It's unobstrusive, yet easily accessible. Then again, I'm not sure we've hit the point where I want a huge brick of a watch/computer strapped there. Not yet, anyway.
[via Shiny Shiny ]