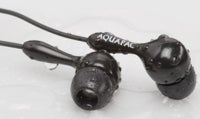 It's been a while since I went swimming with my iPod. Man, they say "Don't steal music" but they don't tell you can't use it while floating in the pool. Sheesh. Actually, I might have been all right if only I'd swapped out my usual headphones with Aquapac's 100% waterproof model.
These in-ear style 'phones are submersible to 10 meters (roughly 33 feet), though you may want to heed this warning:
Important: Not for use in water below depths of 3m/10ft, where some medical research has suggested that increased pressures, combined with strong sound waves can cause hearing damage with prolonged use.
So, in other words, if you drop your Aquapacs all the way to the bottom of the lake, they'll be okay. Just don't be listening to them while your SCUBA diving in the Great Barrier Reef.
You will, of course, also need a waterproof case for your audio gear too. But don't worry, Aquapac will naturally sell you one, since you asked so nicely. The headphones will run you just $40; the headphones supposed have "great sound," but I'm pretty sure anything sounds great under 10 feet of water.
[via Oh Gizmo! ]