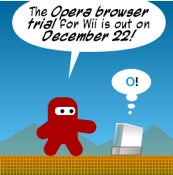 Wii fa ns, hold on to your hats Wiimotes (tightly). A couple of updates are coming down the fat pipes of the Intertube, delivered straight to your gleaming white console. First off, the Wii's Forecast channel will be available today, so you can finally figure out what the weather's like outside without tearing yourself away from that game of Twilight Princess to look out a window.
In addition, December 22nd has been announced as the drop date for the Wii-version of web browser Opera. This is the trial version—the final version comes out some time in the spring. Of course you can also learn all this in ninja comic strip form, if that's how you get your jollies.
I'm curious to know how the Wiimote works as a device for navigating the web—I'd imagine pretty well, but I'm officially deputizing our own Derik to bring us the full skinny. As soon as he comes back from wherever the heck he's disappeared off to. He better bring me back a doughnut like he promised though.
[via Joystiq ]