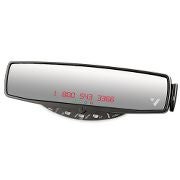 I just got a Bluetooth phone fairly recently, the Motorola E815. In fact, just this morning, I was writing about it over on Mac User. One of the gizmos I'd played about with was the built-in HandsFree system in my dad's Acura TL, which is very cool. Once you pair your phone with the car, incoming phone calls will play through the stereo speakers, muting the radio or CD player. You can also make calls with a voice command system. Very nifty.
For those of us plebes who drive something a little simpler (my Honda Accord, for example), there's Hammacher Schlemmer's Rearview Mirror Wireless Bluetooth Speakerphone. In addition to the the speakerphone, the caller ID appears in LEDs on your mirror. It also includes a wireless earpiece, should you have passengers and wish to keep the other end of your conversations private.
The $139.95 asking price must have seemed pretty attractive, because they're sold out for the moment. Unfortunate, because I seriously want one. Guess I'll have to go back yelling at other drivers to entertain myself.
[via Gearlog ]