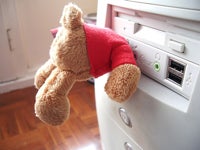 We don't count ourselves USB gadgets-of-the-month fans necessarily—there's just too much to cover. But still, I couldn't resist this flash drive/Teddy Bear mod. Yes, it's cute. Yes, it's camouflaged. But man-oh-man will I be able to give my small cousins nightmares when they see this thing.
It's a pretty simple task to do yourself. Just pick up a cheap flash drive, any small stuffed animal, some glue and some sewing know-how, and you can have yourself a decapitatable flash drive. I'll have to think twice about holding out for the bulletproof version I guess.
[via Engadget ]
Note: When you purchase something after clicking links in our articles, we may earn a small commission. Read our affiliate link policy for more details.